Taiwan's President Tsai Ing-wen thanked the island's electorate Saturday for putting "democratic values into practice" after securing more than 57% of the vote. Tsai's comfortable victory caps a remarkable comeback after devastating local election results in 2018 saw her step down as leader of the Democratic Progressive Party following its crushing defeat in races across the self-governing island.Following Saturday's vote, Tsai addressed tensions with China over the territory's sovereignty, saying Taiwan is willing to engage with China but that China must respect the voice of Taiwan's voters.
"The results of this election carry an added significance because they have shown that when our sovereignty and democracy are threatened, the Taiwanese people will shout our determination even more loudly back,"
Tsai said during a news conference.Tsai also urged China to abandon threats of force against Taiwan and said all countries should consider Taiwan "a partner, not an issue."
With more than 99% of the votes counted by Taiwan's Central Election Commission, Tsai's 8 million votes surpasses Ma Ying-jeou's 2008 record of 7,658,724 votes. In Saturday's vote, Han Kuo-yu received more than 5.4 million votes, and James Soong received more than 600,000 votes.
President Tsai Ing-wen gestures on stage during a rally on Wednesday, January 8, in Taoyuan, Taiwan, ahead of Saturday's presidential election.Han, of the Kuomintang (KMT) party and the main opponent to Tsai, conceded defeat Saturday in a speech to supporters, adding that he had called Tsai to congratulate her.
The election was dominated more than ever by relations with Beijing, which was accused of trying to bully voters and distort the results in its favor. Tsai's resurgent popularity has been largely courtesy of domestic fears over China. Han was seen by some voters as being too close to Beijing, as many looked with concern at unrest in Hong Kong — once seen as a model for some in China for a potential future takeover of de facto independent Taiwan.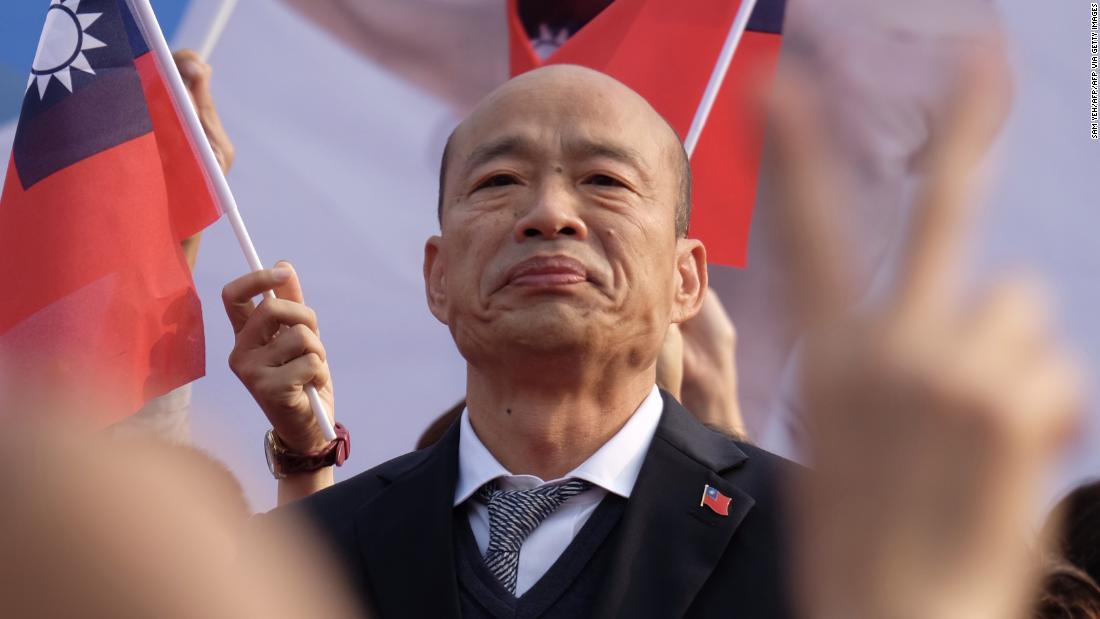 Han Kuo-Yu, Taiwan's main opposition Kuomintang presidential candidate, attends a campaign rally on January 4 in Tainan in southern Taiwan.
CNN