The Australian city of Sydney has been hit by its heaviest rain in 30 years, bringing flooding and travel chaos and forcing thousands from their homes.
The state weather agency said 391.6mm of rain had fallen in the past four days, warning of potentially life-threatening flash floods.
Emergency services advised people in Sydney to stay at home on Monday because of disruption to transport.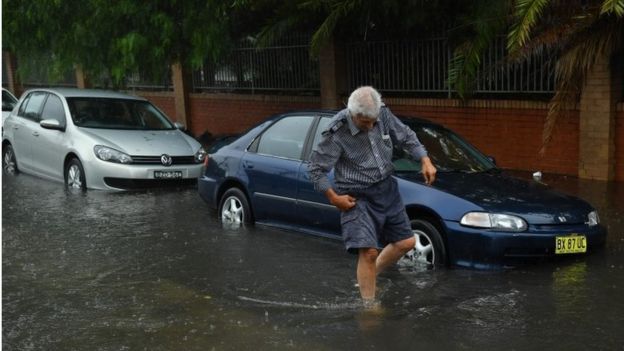 Tens of thousands of people have also been left without power.
Amid the chaos, there is also relief that the rains have extinguished many of the bushfires which have torn through New South Wales in recent months.
Among them is the Currowan fire which had burned for 74 days around the town of Shoalhaven, destroying nearly 500,000 hectares.
Despite the fire relief, the Bureau of Meteorology (BoM) warned that fire-hit areas can be particularly prone to flooding, and that fast-moving waters can carry large amounts of debris.
A severe weather warning is now in place for the entire coast of NSW, Australia's most populous state.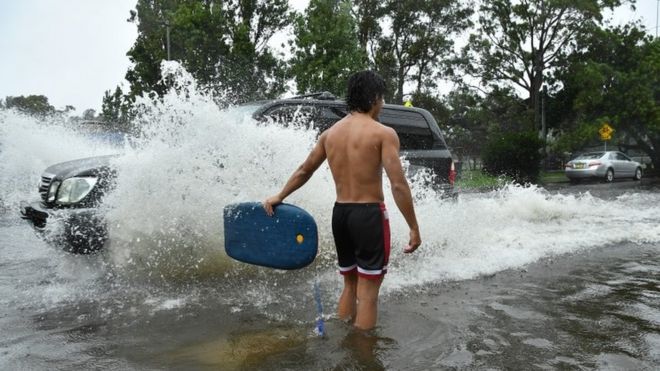 Government agencies have warned that high tides forecast for the coming days could worsen flooding in many areas.
In Sydney alone, at least 200 people were rescued by emergency services.
Several people have been injured, including four who were inside a car which was crushed by a falling tree in the city centre on Sunday afternoon.
BBC