A Pakistan International Airlines flight crashed in Karachi on Friday with 99 passengers and eight crew members on board. At least 11 bodies have been recovered and taken to a Karachi hospital.
The flight took off from Lahore and was due to land in Karachi before it disappeared from radar. The Airbus A320 crashed into the Model Colony neighborhood, next to the airport.
Airline chair says plane's pilot reported technical problems. Pakistan International Airlines chairman Arshad Malik has said the plane's pilot reported he was experiencing technical difficulties before the crash.
"It is a very sad incident and I am going to Karachi," he said.
"The last voice we heard of the captain was that we have a technical problem. He said this from final approach, he was told we are ready for landing, both strips are free and you can land but he decided to go-round.
At least 11 bodies were brought to one Karachi hospital.
At least 11 bodies from the scene of the Karachi plane crash have been brought to Jinnah Hospital, according to hospital spokesperson Seemi Jamali.
It is unclear if those fatalities involve victims from the ground or the plane.
Pakistan Prime Minister "shocked and saddened" by incident. Pakistan's Prime Minister Imran Khan has expressed his shock over the Karachi crash near the neighborhood of Model Colony.
"Shocked & saddened by the PIA crash. Am in touch with PIA CEO Arshad Malik, who has left for Karachi & with the rescue & relief teams on ground as this is the priority right now.," he wrote on Twitter.
Khan added that an "immediate inquiry" will take place. "Prayers & condolences go to families of the deceased," he said. No fatalities have yet been publicly confirmed.
The Pakistan International Airlines, flight PK8303, which crashed today in Karachi, was an Airbus A320.
Pakistan's Army sent helicopters to assess damage and rescue efforts while urban search and rescue teams are being deployed on the ground, Pakistan's military tweeted Friday.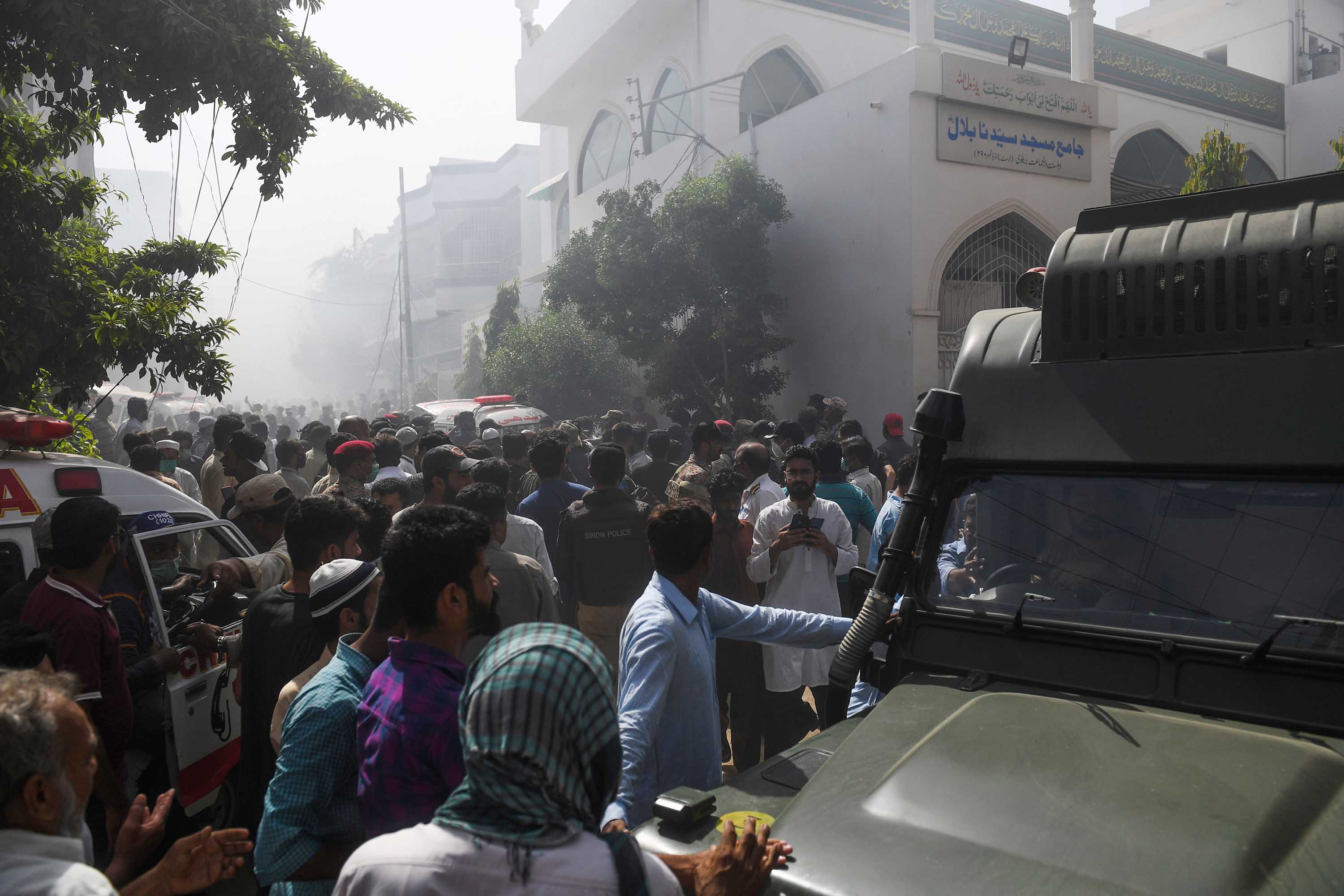 The Airbus A320 is known as a work horse, says CNN's transport analyst Mary Schiavo, who added that Pakistan has been plagued with several plane crashes in the past.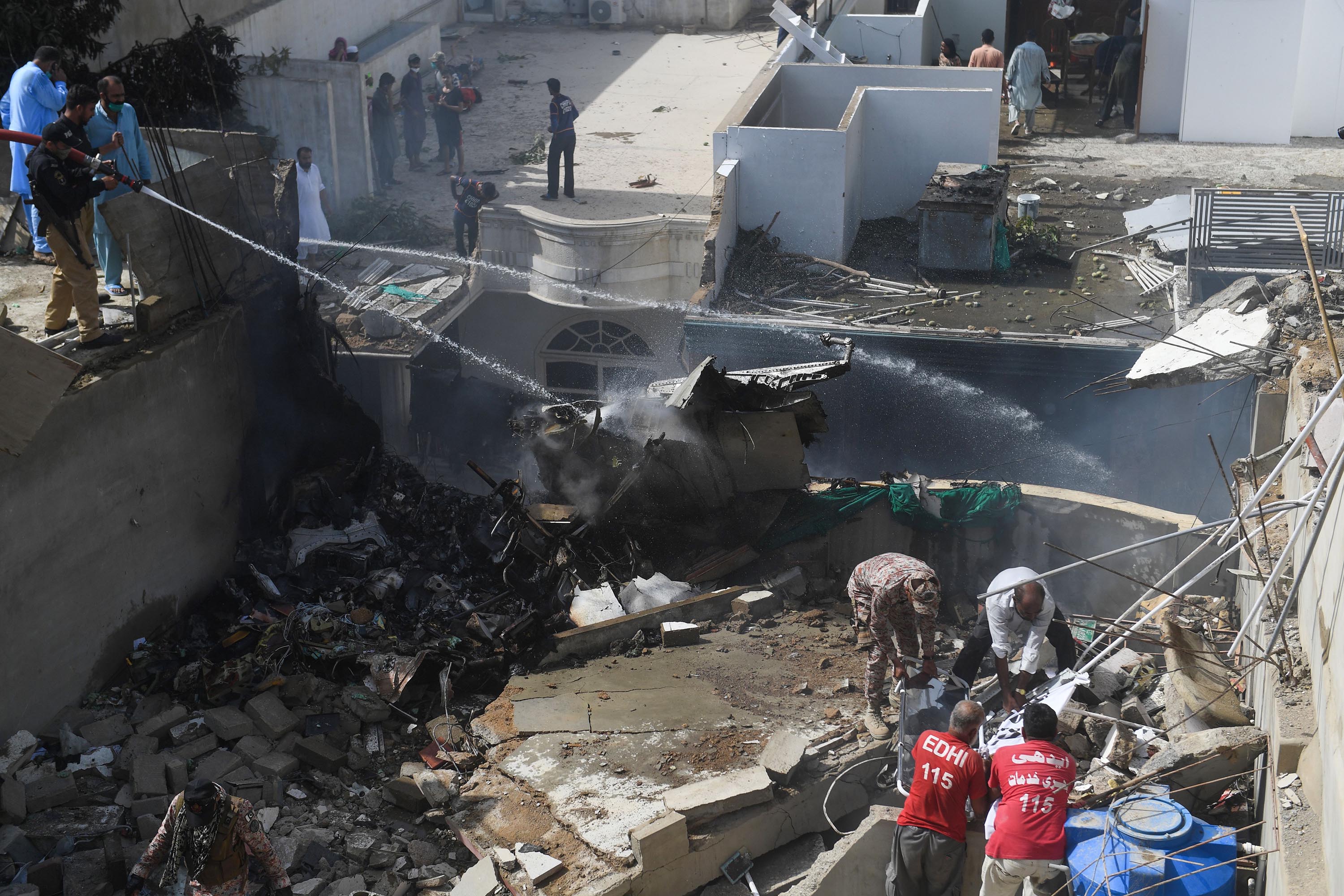 "The pilot in his Mayday call had said that he was experiencing technical problems. He had been told both landing strips were available for his use but he preferred to use the go around landing route, we are looking into the technical issue. Our prayers for the lives that have been lost."
Flights had resumed in Pakistan just over a week ago after being grounded for two months, as a precaution to prevent the spread of coronavirus.
The Pakistan International Airways flight crashed in a residential area in Karachi, which is the country's most populated city. Worries are mounting that people on the ground will be among the casualties.
The crash comes as the country prepares to celebrate the end of Ramadan and the start of  Eid al-Fitr, with many traveling home to their families in towns and villages.
Footage shows smoke billowing over Karachi. In a video shared by journalist Qaseem Saeed, smoke billows in the distance where the plane is purported to have crashed in the city.
Khan told CNN the flight took off from Lahore and was due to land at 2:30 p.m. local time (5.30 a.m. ET) in Karachi but had gone missing from the radar.
An emergency response protocol has been activated.
Source: CNN