Arsenal's £350,000-a-week star Mesut Ozil star was targeted in north London
Scooter-riding thugs armed with knives tried to box in his G-Wagon on Thursday
Ozil and Kolasinac then fled as two motorbikes chased them for over a mile
They abandoned the car and found safety in a restaurant on Golders Green Road
Two Premier League footballers have been involved in a carjacking attempt by an armed gang in a London street.
Arsenal players Mesut Ozil and Sead Kolasinac were targeted, the club confirmed, but both escaped uninjured.
Footage on social media appears to show Kolasinac chasing the robbers in Platts Lane, near Golders Green, at about 17:00 BST.
Arsenal said in a statement: "We have been in contact with both players and they are fine."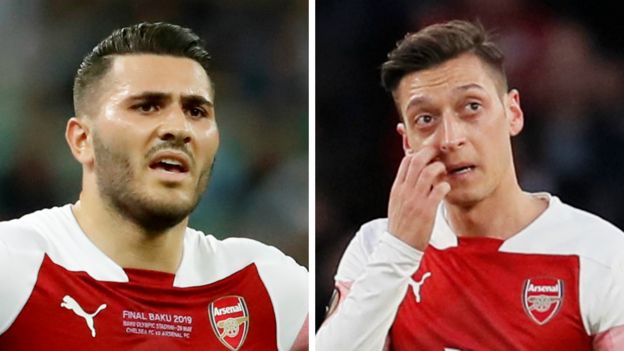 In a video that has circulated on social media, full-back Kolasinac is seen fighting off two men who are wielding knives.
The player can be seen jumping out of a vehicle to confront the masked men who had pulled alongside the car on mopeds.
In the footage, both carjackers were seen to be armed and were filmed brandishing knives at 26-year-old Kolasinac.
A spokesman for the Metropolitan Police said: "It was reported that suspects on motorbikes had attempted to rob a man who was driving a car.
"The driver, along with his passenger, managed to get away unharmed and travelled to a restaurant in Golders Green, where they were spoken to by officers."
There have been no arrests so far.
The childhood friends sped towards a Turkish restaurant on Golders Green Road where they are known, and staff raced to their aid as they abandoned the Mercedes 4×4 in the road.  
Witnesses said 30-year-old Ozil looked 'terrified,' as the waiters and chefs rushed to defend their friend.
One witness told MailOnline: 'I saw Ozil being chased up my High Street by boys armed with knives.'
CCTV footage captured before the chase began shows burly 6ft Bosnian Kolasinac squaring up to and rushing at a robber whose face is obscured by a crash helmet.
The 26-year-old darts toward the front end of the Mercedes to face off an attacker as he makes sure the front passenger door is protected.
The fullback then turns to the rear of the vehicle to steam towards an oncoming assailant who appears to be wielding a blade while wearing a motorbike helmet.
At this point Ozil is able to drive forward in the £100,000 SUV as Kolasinac swings his bare-fists at the thug.
Off camera, Kolasinac was able to rejoin Ozil in the car and they sped away together, pursued by the raiders.
Waiters and chefs from Turkish restaurant Likya rushed to the aid of the football stars when they arrived forcing the riders to flee empty handed.
Neither of the Premier League players from the north London club were harmed during the incident.
Financial worker Azuka Alintah, 36, told the MailOnline: 'Ozil looked absolutely terrified, as anybody would after being chased by men with knives.
'He looked like he was running for his life. And I suppose he was.
'I saw him disappear into the restaurant with the motorcycle guys on his tail.
'They didn't take off their helmets and were all in black, wearing long sleeved tops in this hot weather. They stood out.
'God knows what would have happened if they'd caught him. It looked to me like he'd have been hacked to shreds and he clearly thought so too.
'As soon as the restaurant staff started to come to the window and to the doorway, they turned around and roared off.'
Kolasinac's fearless defence of his teammate is unsurprising to many Gunners fans who saw how Ozil took the Bosniak under his wing when he joined the north London club in 2017.
OZIL: THE £43M MAN WHO HAD PRESIDENT AS HIS BEST MAN
The 30-year-old Arsenal midfielder signed for the north London side in 2013 for an undisclosed fee of around £43million from Real Madrid.
The German footballer, whose family is Turkish, whipped up a political storm when he was pictured alongside Turkey's President Recep Tayyip Erdogan last May.
Criticism intensified after the defending champions Germany crashed out in the first round of the World Cup in Russia.
In the wake of the World Cup fiasco, Ozil announced his resignation from the national squad, saying: 'I am German when we win, an immigrant when we lose'.
Erdogan was Ozil's best man last month when he was married in Istanbul to former Miss Turkey Amine Gulse in June.
He rose to prominence after stunning appearances in the U21 European Championships in 2009, netting a brace against England in Germany's 4-0 victory in the final.
He transferred from Werder Bremen to Real Madrid in 2010 after a stellar performance in the senior World Cup of that year.
He has impressed the Emirates crowds with his immaculate touches and ability to place balls on a ten pence piece.
The brazen attack took place near to the busy Golders Green Road and tube station in north London.
Ozil and Kolasinac had only returned to London the day before after a successful pre-season tour in America.
The pair gave statements to police before being allowed to leave.
An Arsenal spokesman confirmed the players were involved in the failed carjacking, saying: 'We have been in contact with both players and they are fine.'
The footballers were in action just the day before as the Premier League side played Real Madrid in 2-2 draw in Washington DC before a late night transatlantic flight.
Renowned Arsenal fan Piers Morgan tweeted: 'Incredible guts from Sead Kolasinac – looks like he took on the whole moped/knife gang.'
The attack in Golders Green took place close to where comedian Michael McIntyre was forced to hand over his expensive watch after being set upon by an armed moped gang.
Mr MacIntyre had been parked outside his children's school in Golders Green when the brazen thugs smashed up his car and ripped the £15,000 timepiece from him.
A Scotland Yard spokesman said on Thursday: 'Police were called to NW3, shortly before 5pm on Thursday, 25 July to reports of an attempted robbery.
'It was reported that suspects on motorbikes had attempted to rob a man who was driving a car.
'The driver, along with his passenger, managed to get away unharmed and travelled to a restaurant in Golders Green, where they were spoken to by officers. There have been no arrests. Enquiries continue.'
HOW ROBBERS HAVE TARGETED VIPs IN LAWLESS LONDON
Ozil and Kolasinac are the latest high profile figures to be targeted by armed bikers in London.
In 2016, then West Ham forward Andy Carroll was chased by two motorcyclists, one pointing a gun at him, as he drove his Jeep Wrangler to the training ground.
They were after Carroll's £22,000 watch but the terrified striker was able to make it to the West Ham car park as he spoke to police on the phone.
Last month Strictly star Pasha Kovalev was robbed by moped thieves while standing outside a theatre. The robbers reportedly rode on to the pavement and snatched his phone.
Pasha, 39, was unhurt but upset he lost the mobile, which had pics of his pregnant girlfriend, Countdown host Rachel Riley, 33.
Comedian Michael McIntyre was robbed by two hammer-wielding men on a moped outside his children's school in Golders Green last year.
The men smashed his car windows with a hammer and snatched his watch before fleeing.
Former Chancellor George Osborne was targeted by a moped gang that robbed 103 phones in an 18-day reign of terror.
Politician-turned Evening Standard editor Mr Osborne said the raiders made a grab at his mobile as he left BBC headquarters in Portland Place, in May 2017.
Armed with a hammer and tyre-iron, the trio singled out pedestrians texting or making calls before mounting the pavement and snatching the handsets in central London.
A photographer managed to get detailed pictures of them during one of their raids outside the BBC headquarters.
Made in Chelsea's Spencer Matthews was forced to hide in the vault of a London jewellery store during a smash-and-grab gang raid in May.
The thieves on mopeds smashed their way into The Hour House just minutes after the reality star went into buy a watch.
The only watch not taken in the raid was the one he had gone in to buy, he revealed on Instagram.
Simon Jordan, who used to own Crystal Palace saw his £127,000 watch taken at gunpoint as he sat in his Masarati in March 2016.
Formula One tycoon Bernie Ecclestone, now 88, was seriously injured after he was mugged of jewellery worth £200,000 in November 2010.
He needed hospital treatment after he was punched and kicked to the ground by the robbers, who had waited outside his Knightsbridge home in west London.
Moped muggers tried to steal the watch off the wrist of TV comedian Keith Lemon. The Celebrity Juice host, real name Leigh Francis, at first didn't realise he was the victim of an attempted mugging.
The thieves made off without the watch, which was just a gold Casio costing around £40.
I'm A Celebrity winner Christopher Biggins had his phone snatched by a hooded cyclist as he waited for a taxi after leaving a posh restaurant in Covent Garden in April.
Susanna Reid revealed last year how she was mugged on the streets of London but chased after her attacker in a 'dangerous' bid to reclaim her possessions. She told her GMB co-host Piers Morgan the incident was 'a long time ago'.
Model Carly Zucker, who is married to ex-England footballer Joe Cole, was carjacked by eight thugs on motorbikes outside their home in the Chelsea area of London in 2010. She was hauled from her Audi A4 before the thugs sped off in the vehicle.
Please follow and like us: